A simple, easy to follow recipe to make light and fluffy sugar cookies, perfect for any occasion but work so well at Christmas time with all the amazing festive cutters and pretty white icing!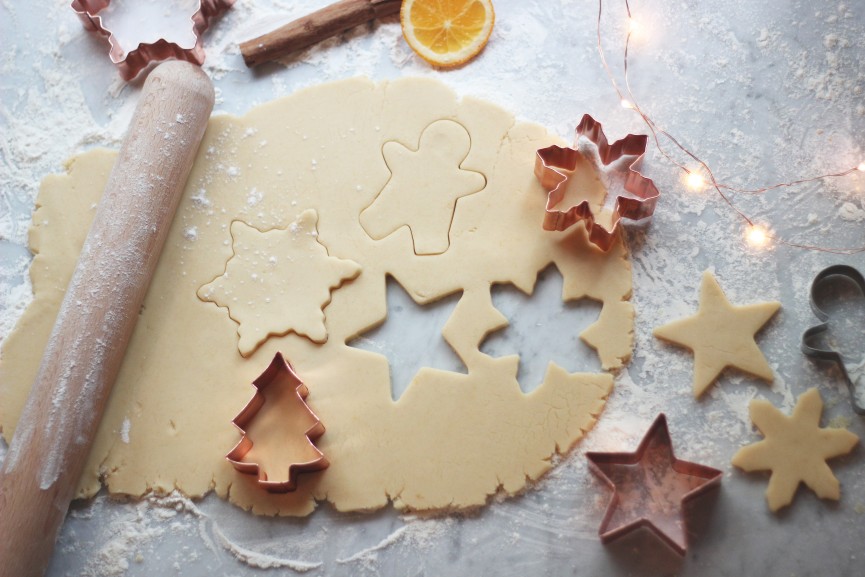 Cook time: 10 Minutes
Difficulty: Easy!
You will need...

For The Cookies:
140g Icing Sugar
1tsp Vanilla Extract
1 Egg Yolk
250g Butter (cut into small chunks)
375g Flour
For the Royal Icing:
225g Icing Sugar
1 Egg White
Cold Water
Preheat the oven to 190oC. Using a wooden spoon or a mixer, mix together the butter, icing sugar, vanilla and the egg yolk, setting the egg white aside as you will use it later! Cream together the mixture until it's all mixed together, then add the flour. Add in the flour a little bit at a time until it is all combined to form a dough. Wrap the dough in cling film and chill it in the fridge for around 30 mins.
Spread some flour on the worktop and roll out the dough with a rolling pin. Using Christmassy cookie cutters, cut out shapes and carefully put them on a lined baking tray. I liked the snowflakes and christmas trees as they look lovely when iced! You can either use small cutters to make lots of little biscuits, or one large one like the giant snowflake!
Put the tray(s) into the oven and bake for about 10-12 minutes until they are lightly golden brown. Carefully slide them off the tray and onto a cooling rack. While you wait for them to cool completely, make the icing. Using a mixer, mix together the icing sugar with the egg white, and add a teaspoon at a time of cold water if it feels too thick. Spoon the mixture into a piping bag with a thin nozzle, and pipe onto the completely cooled cookies. You can then decorate with sprinkles or whatever you fancy, I chose to add silver balls as I thought they just looked so cute!