When it comes to Christmas baking, it doesn't get more festive than gingerbread! I wanted to try out gingerbread cupcakes this year, and was so pleased with how they turned out! I decorated mine with big piped swirls so I doubled the original buttercream recipe, as I always like to make sure I have plenty! The recipe was fairly unusual, I hadn't made anything with treacle before, or dissolving the baking soda, but they turned out beautifully, and are such soft, springy and delicious cupcakes!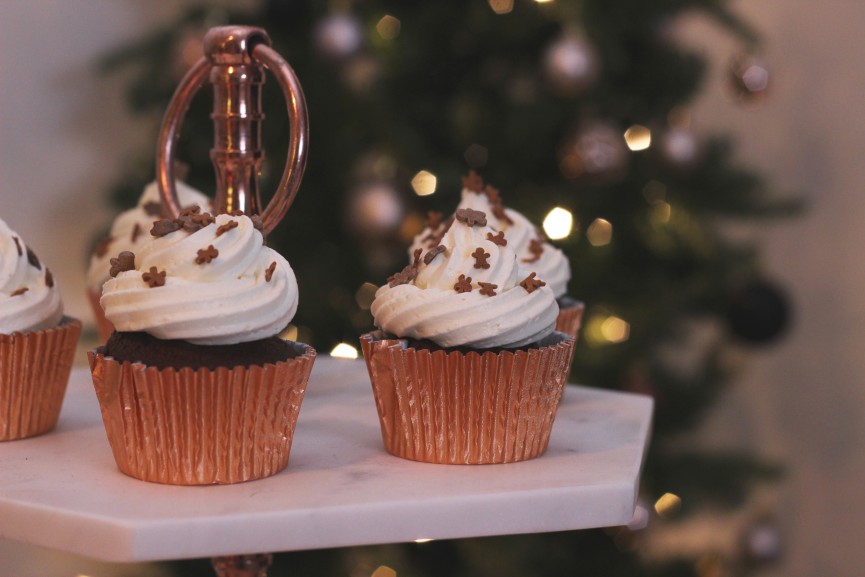 Servings: Makes 12 Cupcakes
You will need...

75g unsalted butter, softened
100g caster sugar
125ml black treacle
1 large egg
1 large egg yolk
175g all-purpose flour, or plain flour
1tbsp cocoa powder
1 1/4tsp ground ginger
1tsp ground cinnamon
1/2tsp ground allspice
1/2tsp ground nutmeg
1/4tsp salt
1tsp baking soda
125ml cup hot milk
For the Buttercream:
240g butter, softened
400g icing sugar, sifted
2tsp vanilla extract
4tbsp milk
First, preheat the oven to 175˚C/350˚F/Gas Mark 4 and pop some cupcake cases in a cupcake tin.
In a large bowl, cream together the butter and sugar. Add the treacle and the egg and egg yolk.
 Then, in a separate large bowl, sift in the flour, cocoa powder, ginger, cinnamon, allspice, nutmeg and salt.
Carefully heat up the milk but be careful not to boil it, and then dissolve in the baking soda.
Add the flour mixture to the creamed butter mixture and stir until just combined. Stir in the hot milk mixture.
Spoon the batter evenly into the cases.
 Bake for 20 mins or until slightly springy to the touch.
Allow to cool for a few mins in the pan and transfer to a wire rack to cool.

While the cupcakes are cooling, make the buttercream:
Cream the butter in a large bowl until smooth, gradually adding the icing sugar and continue to cream until light and fluffy. Add the vanilla and the milk and cream until combined.
Spoon the buttercream into a large piping bag fitted with a large star nozzle. I piped mine from the outside in, finishing in a point to create a swirl. I then topped the cupcakes with mini gingerbread sprinkles!
Based on this recipe: http://www.goodtoknow.co.uk/recipes/530296/gingerbread-cupcakes