Pancake day is fast approaching and if any of you have been watching my vlogs recently, you'll be aware of the fact I have perfected my American Style Fluffy pancakes courtesy of Jamie Olivers easy to follow recipe! Once you have the pancakes down, the exciting bit is filling, stacking and decorating them so i'm going to show you three ways i've been eating pancakes recently.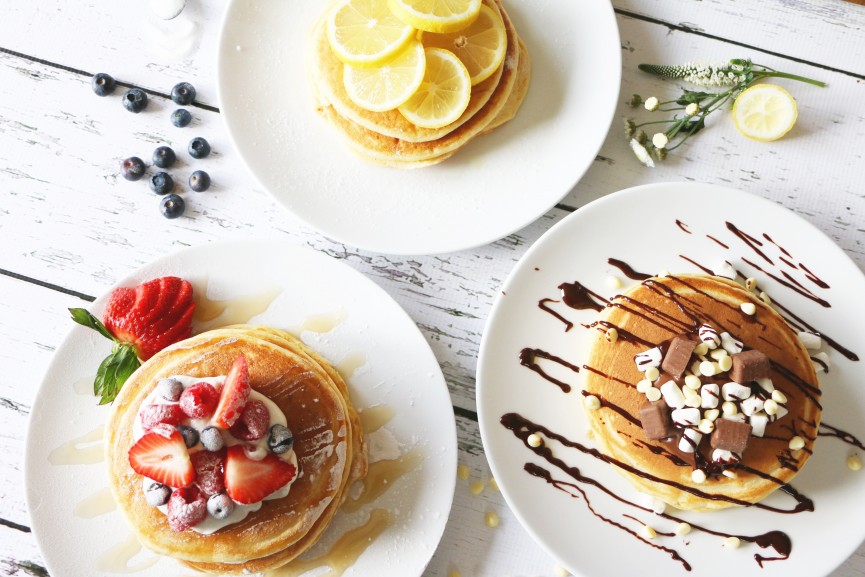 Servings: 9 Large Pancakes
Prep time: 5 Minutes
Cook time: 10 Minutes
Difficulty: Easy Peasy
You will need...

6 Large Free Range Eggs
230g Plain Flour
2 Heaped Teaspoons Baking Powder
280ml Milk
2 Pinches Salt
Separate the egg whites from the yolks and place in separate bowls. Whisk egg whites with salt until it has formed stiff peaks (use a hand mixer to save time and your arms). In the other bowl, add sifted flour to egg yolks, followed by baking powder and milk. Beat together until mixed well. Fold the egg white mixture into this bowl, being careful not to lose too much air so it stays fluffy and whipped. Using a ladle, spoon the mixture into a non-stick frying pan on a medium to low heat (too hot and the pancakes won't cook properly throughout and will burn in places). I don't use butter or oil, I just make sure my pan is pancake friendly so it won't stick. After a couple of minutes if you notice little bubbles popping to the surface, it's about time to flip the pancake. I use a plastic spatula and make sure the pancake has loosened from the pan before flipping. The pancakes should be an even golden colour. I normally place them in a stack on a plate before getting creative with fillings and toppings!
I have used so many different recipes over the years for pancakes, but this one by Jamie Oliver is definitely the easiest and most effective I've ever followed. If you prefer something a little more fluffy as opposed to a crepe, this is perfect for you! I tend to double Jamie's recipe when i'm making pancake stacks or if we have guests over so I have doubled the recipe above, feel free to half it though if you're only making them for you or one other person. 
One of my favourite things about pancakes is the freedom you have with making them all so different. Decorating them is definitely the most exciting part and I feel like you can get your creative skills out. If you have children or younger siblings, you can guarantee this bit will be the most fun. The possibilities are endless, you can go slightly more healthy with things like greek yoghurt, honey and fruit or go chocolate crazy with their favourite sweet treats. 
The Fruit & Yoghurt
This is probably the pancake I tend to make the most. This is quite a light filling as opposed to cream or ice cream and slightly more healthy. Spread a little bit of yoghurt between each layer and fill with your favourite fruit. I've gone for berries because I am an absolute sucker for these but this would also work well with more exotic fruit too. I then tend to put a dollop of yoghurt on top and a handful of fruit, topped with a drizzle of honey and a light dusting of icing sugar! Obviously you can substitute the greek yoghurt for soya, natural or flavoured depending on how you feel or what you have lurking in the fridge. I think it looks quite impressive if I say so myself, not groundbreaking obviously, but tastes delicious and great for breakfast, lunch or desert! 
The Chocolate Overdose
This one is probably best eaten as a desert as it's high on the sweet-tooth scale (although i'm certainly not one to judge if you were to eat this for breakfast, they serve things similar in i-Hop after all). This is for those of you who love Nutella on your pancakes. Between each pancake is a smothering of Nutella and a handful of mini marshmallows and white chocolate chips. I decided to drizzle chocolate dipping sauce on top, but you can always go for chocolate sauce (the kind you squeeze on ice creams) or melt some chocolate if you have a bit more time. Since i'm also obsessed with wispa bites at the moment, I also sprinkled a few of those on top. If you have a favourite chocolate bar or biscuit, this is where you can incorporate it into the pancakes. I also think it would look amazing with some coloured sprinkles or smarties, but I didn't want to go too wild! This honestly tasted…AMAZING. Very filling and probably best shared…but amazing. 
The Classic
Scaling it down from the chocolate overdose by about a mile, it wouldn't be a pancake post without the traditional lemon and sugar pancakes. Always best with real lemons as opposed to bottled lemon juice and caster sugar for a lovely light dusting. I like to slice lemons and place them on top so whist you are eating them you have the choice to squeeze a bit more juice where needed and it looks pretty too. A lot of people's favourite and something slightly less filling! 
Will you be putting down the bottled pancake batter this year and giving these a go on Shrove Tuesday? I'd love to hear what your go-to filling is too so let me know on twitter and be sure to tag me on instagram so I can see your beautiful pancake creations. They're so quick and simple to make and you can almost trick people into thinking they've taken you a lot longer than they actually have if you want to get your presenting skills out. The possibilities are endless!